Building
The Fabryka Kart office suites are located in the revivified and modernised building of a former card factory. This old building at 13 Cieszyńska Street, designed by Jan Burzyński, was built in 1921-1922. It is surrounded by townhouses built in the 1920s and 1930s, some of which are listed, like the villa at 8 Cieszyńska Street. The card factory, established in 1947, was located at 13 Cieszyńska between 1972 and 2013, after moving there from 17 Długa Street. The combination of rich history and unique architecture makes Fabryka Kart a one of a kind building, with its own soul, lending the location a unique atmosphere and a certain prestige. After modernisation, the building will be compliant with the most stringent of standards and ensure comfortable working conditions, as well as becoming a real pearl to behold, with its modern functionalities and industrial character. Thanks to the air conditioning, forced ventilation and 21st century design solutions, such as raised floors and structured cabling connected to floor boxes, every company owner and tenant is guaranteed satisfaction with the ideal conditions. The unique industrial atmosphere inside Fabryka Kart is emphasised by its enormous windows, allowing employees to enjoy the full benefits of natural light. The exposed ferroconcrete structure combined with the interior design make for a cohesive whole, which complements the bright and functional interior and brings out the industrial character of the building. Ingenious design solutions, careful spatial arrangements and the unique atmosphere ensure that Fabryka Kart stands out from other buildings of its type in Kraków, which is sure to improve your company image.
Location
Fabryka Kart's unique asset is its rich history and unique architecture, as well as its great location, close to a major public transport junction in Nowy Kleparz. The great access to municipal transport makes life easier for company owners and employees, as well as customers. Moreover, being very close to the second central ring road and the three poets' avenues guarantees easy access via car or taxi. Getting to the main railway station takes 6 minutes during the morning rush hour (2.2 km), from where it is only another 18 minutes by dedicated suburban train to the recently expanded John Paul II International Airport hotel and transfer complex in Balice. The city's main square is 20 minutes' walk away, a distance of only 1.8 km. By taxi, you can get there in only 5 minutes.
Select a place to view it on the map:
Immediate vicinity
Helping to make this a great location is the easy access to all types of public transport, important government offices and institutions, the Nowy Kleparz marketplace and beautiful recreational areas. Fabryka Kart is a mere 450 metres from the public transport stops in Nowy Kleparz, for tram lines: 4, 14, 18 and 69, as well as for bus lines: 124, 130, 132, 139, 140, 152, 154, 159, 164, 169, 179, 192, 208, 257, 257, 277, 280, 304, 424, 469, 501, 502, 503, 511, 669 and 904. The Nowy Kleparz market is a cult place on the map of Kraków – offering fresh fruit and vegetables, meat, dairy products and bread, as well as flowers, traditional wooden products and home appliances. This is also where locals buy their Christmas trees. Fabryka Kart rubs shoulders with many government offices and institutions vital to the city and its residents – the Civil Registry Office, County Office, Social Insurance Company (ZUS), Kraków County Employment Agency, Office of Electronic Communication, TAURON Customer Service Office, Radio Kraków and the Military University Hospital. There is also no shortage of restaurants and bars in the area – including trendy ones like 'Deli 8' at 8 Mazowiecka Street, the well-known and loved 'Jak we Lwowie' at 13 Lubelska Street, and the swish 'Restauracja Garden' at 71 Krowoderska Street. If you need a moment to relax, then there is a park nearby on Grottger Avenue, as well as Park Kleparski located in front of the old Fort Kleparz. Nowy Kleparz marketplace Bars and restaurants Government offices and institutions Park
Select a place to view it on the map:
Government offices and institutions
Communication
One of the key criteria when choosing a location is good access to fast municipal transport to all parts of the city. Fabryka Kart is close to a number of modes of municipal transport (trams, city buses, and suburban buses), giving access to all parts of Kraków, especially its northern suburbs. The following tram stops can be found within a 5-minute walk – Nowy Kleparz for tram lines: 4, 14, 18 and 69, and for bus lines: 124, 130, 132, 139, 140, 152, 154, 159, 164, 169, 179, 192, 208, 257, 257, 277, 280, 304, 424, 469, 501, 502, 503, 511, 669 and 904; Aleja Juliusza Słowackiego (between Krowoderska and Łobozowska Streets) for bus lines: 124, 139, 152, 159, 164, 169, 179, 192, 208, 304, 352, 424, 469, 501, 502, 503 and 904.
Select a place to view it on the map:
Plans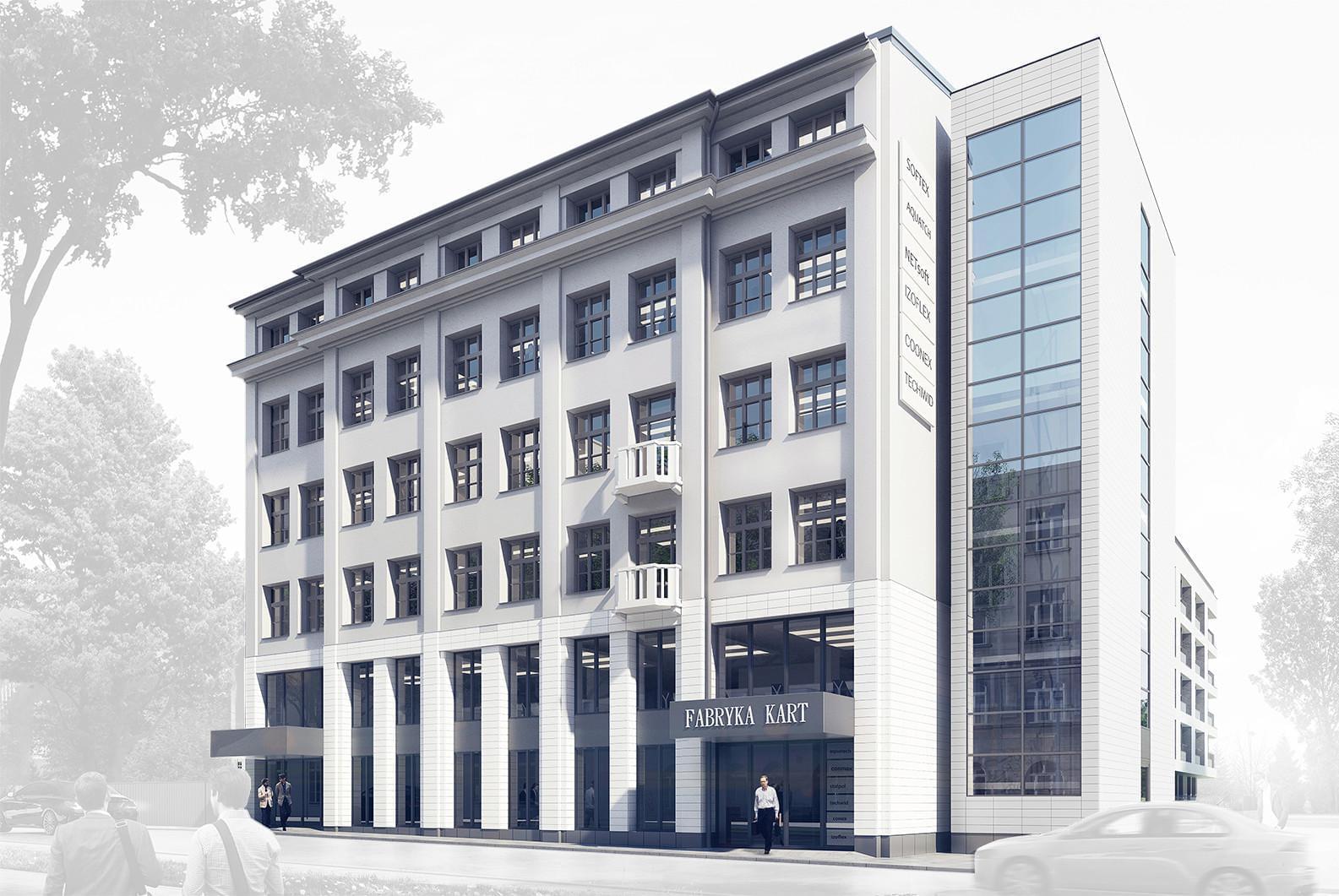 Divisions and interior layout design
1 tenant
2 tenants
3 tenants
4 tenants
Example division
Typical floor plan (floors 2, 3 and 4)

Key:

Floor Service Area

47,88 m2

Vert. Penetrations

34,95 m2

Ocpnt+Allocated Area

453,24 m2

A typical floor (division into 2 offices)

Key:

Floor Service Area

51.34 m2

Vert. Penetrations

34.95 m2

A typical floor (division into 3 offices)

Key:

Floor Service Area

63.01 m2

Vert. Penetrations

34.95 m2

A typical floor (division into 4 offices)

Key:

Floor Service Area

63.01 m2

Vert. Penetrations

34.95 m2

Typical corporate floor – one tenant per floor

Lease area: 453,24 m2 NLA / 485,87 m2 GLA
2 work stations in single offices
8 work stations in four-person offices
42 work stations in open plan space
53 workstations in total
Average factor: 1 person for every 8.5 m2 NLA
1 fourteen-person conference room
1 four-person meeting room
Kitchen with 12 seats
Server room
Storage room / print corner
Single-person reception desk
Specifications
Suspended ceilings upon request
Air conditioning and forced ventilation
Raised floors and carpeting
Figures
STANDARD FURNISHING
Figures

Lease area (offices + commercial premises on the ground floor):

2 401,39 m2 GLA

Number of floors:

5 + ground floor

Typical floor area:

485,87 m2 GLA

Parking ratio:

1 parking spot per 144 m2 of office area (16 parking bays in the garage)

Minimal lease area::

86 m2

STANDARD FURNISHING

Air conditioning and forced ventilation:

Yes

Suspended ceilings:

Upon request

Telephone cables:

All offices have access to any number of landline connections

Computer cables:

All offices have access to high-quality fibre optic broadband

Electronic access control system:

Yes
Design team
Landlord
Fabryka Kart Trefl Kraków sp. z.o.o – a Kraków-based company with 70 years of experience in producing cards, card games and other paper products. The company moved its office and production lines to the Kraków Special Economic Zone in 2014, while its former building at Cieszyńska Street has undergone a metamorphosis. The company has thus become active in a new sector – renting its real estate.

Desinger
The project of revivifying Fabryka Kart was born in the heads of Artur Jasiński and Partners – known for office buildings such as Bonarka 4 Business (B4B), AXIS (ABB Building) at Powstania Warszawskiego Street, SSE7 for Comarch at the Kraków Tech Park in Czyżyny, Principio at Armii Krajowej Street and the Brainville Tech Park in Nowy Sącz.

Lease-up
Fisheye is a real estate broker and advisor in Kraków, specialising in commercial space market transactions, operating in all cities across Poland, focusing primarily on southern Poland and Warsaw. In addition to its other services, it offers the highest quality tenant and landlord representation services in lease transactions (mainly office space).